Martyn Ballinger, one of our Pyroban Field Service Engineers, has again been in Invergordon, Scotland, this time working on a forklift offshore, rather than in one of the local Whisky distilleries! We catch up with him and learn what he's been up to.
I've been on an oil drilling rig today conducting an Annual Safety Audit (Ex ASA) and maintenance on an ATEX forklift truck. The rig is currently anchored in the Invergordon bay off the Cromarty Firth in North East Scotland.
On this occasion the truck had failed its Annual Safety Audit after many years of use in hostile and tough North Sea conditions.
It was my job to do what was necessary to make it safe again and fully compliant for operation prior to the oil rig moving back into the field and the hazardous environment where flammable hydrocarbon release is possible.
All Pyroban Field Technicians are available and trained to support with complex fault-finding and repair to help get equipment working safely as quick as possible.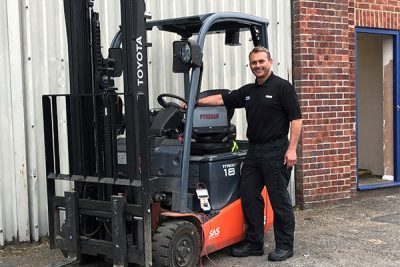 When we work offshore it's also essential to have all the necessary training so we can respond straight away to customer needs wherever they are. I have my BOSIET (basic offshore safety induction and emergency training), FOET (Further Offshore Emergency Training), CompEx and BS7671 training/qualifications which enable me to go offshore whether it is supporting materials handling equipment or large engines used in well service equipment.
The customer I visited today is just a typical example of the weird and wonderful sites we visit to ensure they continue to operate safely in tough conditions. Fortunately, this time there was a calm sea, blue skies, and a short trip back to the mainland.
Learn more about Martyn in our previous blog about "Dedication to service through the COVID-19 pandemic". Read it here.
Find out what happened to another Pyroban Technician Steve when he went offshore in Vietnam during COVID-19.
For more information visit www.pyroban.com, email sales@pyroban.com or call +44 (0)1273 456800.